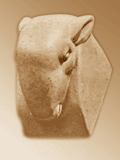 Home
Contemporaneous account
Picture Galleries
Marketing Material
Middleton Mine
Text from Advertising Flyer (ca 1903) for
Hopton-Wood Stone Co
Limited
Wirksworth, Derbyshire
Sole Lessees of the
HOPTON-WOOD STONE QUARRIES

Blocks, Sawn Stone, Steps, Staircases, Landings, Chimney-pieces and Paving supplied. All kinds of Ecclesiastical work including Reredos, Pulpits, Altars . Tombs, Post-Mortem Table, both in Hopton-Wood Stone and Fossil Marble (polished - or fine rubbed). Stone worked to Architects' Designs.

John Lee-Dennis, C.E., General Manager.
The Hopton-Wood Stone Co., Ltd,

Offices: Middlepeak,

WIRKSWORTH, Derbyshire

| | |
| --- | --- |
| Lloyds' Bank, Birmingham | New Police Station, Preston. |
| Prudential Buildings, Furnival's Inn | New Town Hall,. Wolverhampton |
| Free library, Shoreditch | Free Library, Wolverhampton |
| Alfred de Rothscild's Halton House, Halton, Tring | Wakefield County Buildings |
| Owen's College, Manchester | Leopold de Rothschild's Town Mansion, Hyde Park |
| Trentharn Hall | Eaton Hall, Cheshire |
| Prince Henry of Battenberg's Memorial Chapel | Chatsworth |
| Eaton Lodge | Sandringham House |
| Balliol and other Colleges, Oxford | Technical Institute, South Kensington |
| St. James' Church, Spanish Place | Rugby Schools |
| Royal Alexandra Hospital, Rhyl | Sheffield Royal Infirmary |
| Castle Donington Church | Nottingham General Hospital |
| New Town Hall, Henley | New Mansion, Bryanstone, for Lord Portman |
| Stafford County Council Buildings | New Hall & Institute, Birmingham |
| Cambridge College | New Municipal Buildings, Leeds |
| Victoria Hotel, Manchester | Yorkshire College, Leeds |
| Prudential Buildings, Leeds | Manchester Town Hall |
| Belvoir Castle | Marlborough College, Drayton Manor |
| Free Library, Derby | Mechanic's institute, Derby |
| New Union Offices,Ashbourne | Palace Hotel, Buxton |
| Bootham Schools, York | Serle Street Offices, Lincoln's Inn |
| Shops, Vicar Lane, Leeds | St. Ignatius Church, Preston |
| Guildhall, London | Harris's Free Library, Preston |
| Ebrington Barracks, Londonderry | New Technical School, Southend-on-Sea |
| Mickleover Asylum | Baptist Church House, Southampton Row |
| Girton College | University College, Liverpool |
| Canterbury Cathedral | New Bank, Cherry Street, Birmingham |
| Bank, 71, Cornhill, | Westminster R. C. Cathedral |
| St. Leonard's Church, Monyash | Cox's Bank, Charing Cross |
| Elm Court London | Truro Cathedral |
| St. George's Hall,Liverpool | 30, Curzon Street, London |
| Ely Cathedral | Sheffield Corn Exchange |
| Lichfield Cathedral | Worcester Cathedral |
| Countess of London Memorial, | Ashby-de-la-Zouch |
| Carlisle Imperial Institute | Prince Consort's Memorial |
| Rauceby Asylum | Houses of Parliament |
| Holy Trinity Church,Ayr | New Post Office. |
| York County Hospital | Claybury Asylum |
The Increasing demand by Architects, Engineers Builders, and Contractors, for THE HOPTON-WOOD
STONE, obtainable from the Quarries of the above Company, has Induced the Directors to more fully
develop their properties.

They have extended their Quarries at Hopton-Wood, and Introduced the latest Improved Machinery
for Sawing, Rubbing, Polishing, &c., thus enabling them to supply PURE HOPTON-WOOD STONE In unlimited quantities, and at greatly reduced prices.

HOPTON-WOOD STONE has been largely used for Ecclesiastical Work, Staircases, Landings, &c., for over half-a-century, and has never been known to deteriorate.

Other Quarry Owners commonly, but inaccurately, vend their Stone as HOPTON-WOOD STONE. A
slight comparison will prove the absolute superiority of the Stone sold by this company over any other Stone.

Samples with Price Lists and full particulars can be had on application to the General Manager.

P.S. The Company do not employ any Travellers or Agents.

HERE are few questions probably with which the minds of architects, builders and contractors have been more exercised than with the question as to what are the best kinds of stone to be used for various purposes. This is a constantly recurring cause of perplexity, and it may, therefore, serve a good purpose if we venture briefly to call attention to the qualifications possessed by the stone obtained from the Hopton-Wood Stone Company's Quarries, Wirksworth, Derbyshire.
The following article is taken from the Railway Supplies Journal London, May, 1894.
"Hopton-Wood Stone has been known and used for so long a time that it Is now difficult to fix any date to its first introduction as . . an architectural stone. We may, however, mention that in the front elevation of the Moot Hall, Wirksworth there are three panels with the Miners' arms or emblems, etc., carved In Hopton-Wood Stone, the date of erection being 1814.

Geologically it lies in the fourth limestone of the carboniferous series, is of a softer and more workable nature than the limestone above and below it ; but still it is hard and crystalline, of fine and compact texture, and a remarkably good weather stone ; and owing to its nature it is not in the slightest degree necessary that it should be placed on its natural bed.

In colour it is a beautiful creamy white ; it takes a brilliant polish, and is an excellent stone for carving (retaining a good fine clear arris).

It would be hard to find a more useful stone, or one which lends itself to such varied uses. Architecturally it has been used for every possible purpose, both indoor and out ; and on the other hand it is largely employed for purposes where durability is an essential quality, viz. : for paying and steps, etc. Paving laid with this stone in Old Palace Yard, Westminster, in I854, will still be seen to show few signs of wear. The crushing strain of Hopton-Wood Stone is 444.4 tons to the square foot, which - even when considered in reference to cost - compares favourably with Portland Stone, with a crushing strain of 170 tons to the square foot."

The Daily Graphic of May 10th 1893, in the IMPERIAL INSTITUTE SUPPLEMENT wrote as follows : " It should be said of the Hopton-Wood Stone that, possessing many of the characteristics of marble, it is capable of fine polish, which brings out all its delicate markings, etc., etc.

"The Imperial Institute is one of the best known and most accessible of buildings where Hopton-Wood Stone has been largely used, as dados, etc., to corridors, lining, corbels, piers, arches, etc., and steps and staircases ; vaulting in vestibules, and carved panels in the exterior elevation.

"We should not be doing justice to this beautiful stone if we failed to mention one of the latest and largest works executed with it. We refer to the work recently carried put under the direction of Mr. Norman Shaw for Lord Portman at his new mansion at Bryanstone, Dorsetshire. Mr. Shaw has made an extensive and judicious use of this stone in the entrance hall, where large columns and pilasters 14 feet high, piers and arches, coved and panelled, and large pedimented doors with carved trusses and egg and tongue moulding (all beautifully polished) have been executed and fixed by the Hopton-Wood Stone Company, Limited. One authority commenting on this mansion, describes the entrance ball as the finest in England.

"The Hopton-Wood Stone Company Limited not only execute all classes of work from architects own designs, and supply. chimney pieces, fenders, and headstones, tombs etc., but they supply the stone in random blocks, quarry dressed, or sawn to size in slabs or scantlings. The price, to six feet long for random blocks, 3s. per foot cube and slabs, 6s. per foot cube (in truck at the works). The weight is. about 13 cube feet to the ton.

"To enumerate all the various purposes to which it hits been put would occupy too much space, and would repeat to some extent what we have already said ; still, we may fitly mention a few, viz.: pulpits. reredos, monuments public memorials, fountains, pedestals for statues etc. balustrades, handrails. etc.

"Before closing this notice we must say a few words respecting the beautiful. Derbyshire Marbles obtained from quarries owned and worked by, the Hopton-Wood Stone Company - the " Fossil " is composed of the Enchrinite, the stems of the ossicula of which are cut across longitudinally, and are in every conceivable position, the cavities being filled up by calcareous matter, forming the figure which is considered unsurpassed by any other British marble. Grey " Bird's Eye " has the figure formed by very minute fossils, which form the resemblance to a bird's eve, and from whence arises the name. There is further, a Black or very Dark Brown Marble, which is relieved by "bird's eye" fossils."

"According to Kirkaldy's tests, the crushing strain of these marbles is 812.7 tons to the square foot. The rubble or surplus stone from this quarry is crushed into gravel, and being of a tough nature and a high crushing strain the company claim that as a road material it is unsurpassed. The gravel is made up into tarred paving or asphalt. These marbles are situate in the first limestone of the carboniferous series, immediately below the Yoredale Rocks. The Enchrinite or Enchrinoid was an organism that bore a striking likeness to the sea anemone of the present day, which as we now know, is a sort of connecting link between animal and vegetable life."

Not only has Hopton-Wood Stone been sent to Malta and also to India, but more recently the "Tantallon Castle," the latest and largest of Messrs. Donald Currie & Co.'s steamers, which left on her first voyage for the Cape on Friday, May 4th, 1894, took with her some Hopton-Wood Stone steps.

Extract from The Quarry, December, 1898 - The quarries and works of the Hopton-Wood Stone Company, Limited, are situated near Wirksworth, in Derbyshire, about midway between Buxton and Derby. and about 3 miles from Matlock Bath.

The produce of the Hopton-Wood Stone Company's quarries and works consist principally of; 1, Derbyshire marble (fossil). 2, Hopton-Wood Stone. 3, Monumental Work. 4, Sawn Landings, steps, slabs, and paving. 5, Manufacture of chimney pieces. 6, Kerbs and Setts. 7, Macadam and limestone gravel. for garden walks, and the manufacture of asphalt paving. 8, Fluxing Stone.

The Derbyshire marble of which Hopton-Wood is one of 'the
most celebrated, is well known, but deserves a much wider recognition.
The Hopton-Wood Company's stone has been employed in the
construction of many important buildings, amongst which are the
Imperial Institute ; Lord Portman's mansion at Bryanstone, Dorset
St. James' Church, Spanish Place, Manchester Square, London
Palace Hotel, Buxton ; Town Hall, Manchester; Municipal Buildings,
Leeds; 'New County Buildings, Wakefield; St. George's Hall,
Liverpool; Free Library, Derby 'Mechanics' Institute, Derby.,
Guildhall, London ; Technical Institute, South Kensington; Canterbury, Lichfield, Worcester, Ely, Truro, and other Cathedrals; Owen's College, Manchester; New County Buildings, Stafford; Yorkshire College, Leeds; Prudential Insurance Buildings, Leeds; Passmore Edwards' Free Library, Shoreditch ; Houses of Parliament ; Prince Consort's Memorial ; Sandringham House ; Chatsworth ; Eaton Hall; Belvoir Castle ; Trentham Hall ; Halton House, Tring ; Prince Henry of Battenberg's Memorial Chapel Hall and Institute, Moseley Road, Birmingham ; etc

In a descriptive article on the Imperial Institute, then in course of construction, the Daily (May 14th, 1890,) writes:

"Where ornamentation has been planned for, and particularly at the principal entrance, along the vestibule and galleries, the material used has been Derbyshire Hopton-Wood stone. It is a well-known variety of Limestone exceedingly durable, and capable of the finest possible polish. The utmost delicacy of touch can be wrought out in Hopton-Wood Stone, and there is abundant evidence in the Institute of its superiority for ornate mural work. In the corridors the effects of its use has been much heightened by the interposition of alternate panels rich in fossils."

The encrinite consisted of a long jointed column attached by
one extremity to the sea-bottom, and supporting at the opposite
extremity a cup-shaped body, from which radiated several articulated
arms furnished with ciliated appendages. The entire structure was
rendered flexible by the internal calcareous skeleton being composed
of numerous, bead-like, joints. The dislocated fragments or joints are
cemented in the marble, by means of carbonate of lime and being in the process of manufacture, cut in many different directions, assume a variety of forms.

The perforations in the centre of the joints afford facilities for stringing them as beads; in this way these fossils were used as rosaries, and they are still known in northern England, as "St. Cuthbert's beads."

On visiting the Hopton-Wood Stone Company's limestone works, we were very much impressed by the beautiful specimens of turned and moulded work in polished marble which were shown to us. Nearly all the best work is turned out by hand, and the results speak much for the skill of the workmen employed by the Company. Amongst the rest were some beautifully turned columns and pilasters, and some excellent tessellated and inlaid work. The marble quarries are - situated at Cole Hills, three-quarters of a mile north of Wirksworth, and adjoining the Cromford and High Peak Railway and the numerous blocks and sawn slabs, each carefully numbered, stored on the ground, must represent a considerable sum of money.

An important section of the business of the Hopton-Wood Stone Company is devoted to the manufacture of kerbs and setts for street work and road paving, and excellent kerbs and setts they are. The stone is eminently adapted for splitting into cubes with a minimum of waste, and we had difficulty in tearing ourselves away from the absorbing interest which we felt in watching the skill and precision with which the blocks were manipulated by hand labour to kerbs and cubes of the requisite dimensions. To enable the Company to meet the large demand for their kerbs they keep upwards of seven miles of kerbs In stock.

Very large blocks are obtained from the Hopton-Wood quarries and at the time of our visit a monolith, measuring 9 feet by 8 feet by 4 feet, was being conveyed on a truck from the quarries to the stone yard. This stone was estimated to weigh about 18 tons. Many thousands of feet of blocks of Hopton-Wood stone are annually got at the quarries.

The mechanical arrangements for sawing, dressing and polishing the stone are very complete. In the saw mill there are 6 frame saws, three of which. are constructed to accommodate blocks 8 feet by 3 feet 6 inches by 6 feet ; one 11 feet by 3 feet 6 inches by 8 feet ; one 13 feet by 4 feet by 9 feet. In this shed there is also a polishing bed which will take a stone 8 feet by 4 feet.

No. 1 Rubbing shed contains a rubber 13 feet 6 inches in diameter, which will accommodate stones up to two tons in weight. This shed also contains two turning lathes, 4 feet by 13 feet, and 2 feet by 9 feet respectively, as well as a sawing lathe.

No. 2 Rubbing Shed contains a rubber, 6 feet in diameter. Over 200 men are employed in and about the quarries.

The output of the quarries is despatched by the Cromford and High Peak Mineral Line (London and North Western Railway Co.), which communicates directly with the workings. This line delivers the stone in one direction on to the L. and N. W. Railway system at Buxton, or in the other direction, on to the Midland Railway at Cromford Junction.

The following chemical analysis of the Hopton-Wood limestone made by Mr E. W. I. Jones, F.C.S. July 10th 1877, will be of interest to our readers:

| | |
| --- | --- |
| Moisture | 0.10 per cent. |
| *Lime | 55.30 " |
| Magnesia | 0.45 " |
| .Carbonic Acid | 43.60 " |
| Oxide of Iron and Alumina | 0.25 " |
| Phosphorous | traces only. |
| Sulphur | - |
| Siliceous matter | 0.75 per cent. |
| | 100.45 |
| *Equal to Carbonate of Lime. 98.75 | |
The remarkable purity of this limestone renders it specially suitable for fluxing purposes, for which it is largely used, upwards of 100,000 tons being sold per annum.

At Cole Hills Quarry, two Blake-Marsden Crushers are in full work, and a large trade is clone in broken stone; the gravel is screened to tile sizes usually required. Tile stone is tough in nature. and the crushing strain, according to Kirkcaldy's test, is 812.7 tons per square foot.